Last month I asked a creative from the ad industry to pick his top shot from all the folio edits I had done each month in 2013. I first met Mick Bakos when he was the CD of DDB Singapore and we have crossed paths many times over the years-more recently at TBWA in Melbourne. As so many of my clients are keen to crack the ad industry in Australia, and beyond into the Asian market, I felt Mick's choice would reflect the broad influence of these cultures. I am thrilled that he agreed to help.
Mick chose from these, these and these. And this beautiful image was the winner.
I asked Mick why this was his favourite shot. Here's what he said:
'Once you can draw your eyes away from this young girl's strong, inquisitive stare, you realise that she's carrying an even younger child on her back… and when you get over the shock of such responsibility for a child… then you notice the foot.
And even when you take in the beauty of the other elements in the shot – the textures, patterns and colour of her outfit, the blinding heat in the background, and the cool relief of the dappled shade… you always come back to the foot.
It's the foot that does it for me.
And it's the foot that makes this shot so memorable.'
Jon Love is an experienced advertising shooter who has lived in the USA and Australia, and has shot many assignments on location around the world.
'I use all my energy to make good photographs the best they can be. Working with people from the richest to the poorest, those connections hold great memories.'
He talked me through some of the background to this image, shot for World Vision, and how it is a great example of his approach to shooting:
'The portrait was taken in Kenya, I'm not sure now of the exact location but we were out in Rift Valley, in the Maasai region. I was shooting for World Vision Australia; a resources trip. I think we shot in Zambia, Zimbabwe and Uganda also.
It was film days- shooting colour and black and white, and I always had a 120 format/M6 with me in the hope of finding good personal portraits. The 120 square format range finder really helps define the space in which a portrait can be seen and is still a favourite for me; to see exactly the picture I'm shooting.
This girl, Sitau, with her sister, were walking near where we were shooting so I asked her to sit under the shade of a tree. The baby's foot was all that was needed to reveal the girl's responsibility; that, and her confident stare. I didn't tell her to look at me; I didn't have to direct her. She is typical of the kids you meet in these places- they have no TV, computers, phones and a camera is something they may not have seen before. But in only a few shots, her eyes revealed a much greater knowledge of the landscape than I could ever hope to have.
This shot remains to me an example of how a client can benefit by hiring a photographer who shoots the unforeseen scenario, and is open to allowing that to happen. I'm always looking for that unexpected opportunity; seeing the things you didn't plan for.
My favourite brief is being sent to a remote location with the art director and we work it out as we go, and come back with fantastic images. And no matter how complex some jobs, portraits seem to me the toughest thing, yet are the most rewarding.'
You can see more of Jon Love's work here
More about the judge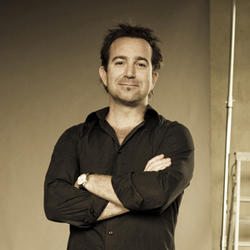 Mick Bakos is a senior creative with 20 years experience in the Australian and Asian advertising industries. He is currently a Senior Art Director at Whybin TBWA Melbourne.
Previously Mick held the role of Senior Creative / Head of Art at DraftFCB Melbourne, Regional Creative Group Head at DDB Worldwide in Singapore, and then remaining in Asia, freelanced at M&C Saatchi, TBWA, BBH, EuroRSCG, Bates, Grey and JWT Manila on local and regional projects.
Mick has been responsible for creating highly creative and effective campaigns that have attracted the praise of clients, consumers, peers, award panels and his mum.