This morning I am decompressing from a workshop I ran yesterday here in Wellington, New Zealand. During the workshop I was assisted by a lovely young lady called Summer who generously offered to collect me from the airport when I arrived. 'I'll be the Japanese girl wearing African braids' she said. Funnily enough, I had no problem finding her.
It is only a few months since now Pro Photographer Magazine Editor Lottie Hedley kindly assisted me at my last workshop in Wellington. She had just arrived back in New Zealand from the USA. Two days later, we found ourselves on the same flight up to Auckland, and a week later we were having coffee in a sunny cafe in Herne Bay, discussing the importance of communication and in Lottie's words- 'reaching out'. (Lottie brought home some great American expressions as well as some beautiful photography.)
I'm all for 'reaching out', or 'connecting', especially as I like to talk. Ask any of my clients; photographers, ad agency art buyers and creatives, or my long-suffering husband. Maybe it's inherited from my northern Brit parents and relatives, who were forever popping into each other's kitchens for a natter and a cup of tea.
A natter and a glass of wine won me many jobs at my photographer's agency. Based in Parnell in Auckland, and having a penchant for good food, I would grab a few hungry photographers or producers and we'd wander down to Cibo, then my favourite restaurant. A quick glance around the room would confirm for me that there were tables of creatives from various ad agencies; inevitably these included Saatchi & Saatchi, Publicis Mojo, FBC and JWT, all of whose offices were situated a convenient stone's throw away. Then off I would go; a trip to the ladies a thinly-veiled excuse to pause at each table for a chat; sometimes joining them for a wine, dessert or a coffee. Often I would return to my table with a brief for another photographic assignment; a layout scribbled on a serviette. Job done; lunch paid for thrice.
Social media has extinguished the cost of this exercise (although not for me the joy of eating). When commenting on a client's recent holiday, 'liking' the shot of their new baby, or openly admiring the award they just picked up in New York or Cannes, we are dropping in on them at their restaurant table, sharing their conversations and staying top of mind.
That's not to lessen the value of the good old fashioned 'catch up'. In fact, the more rare it becomes, the more powerful it is. At this year's AIPA Image Nation conference panel discussion, a group of advertising creatives and art buyers were asked a list of questions by photographers eager to find out how to get noticed.
'Come and talk to us' implored the creatives, keen to assure the audience that photographers were welcome in their respective agencies. The MC of the panel was Draft FCB creative Peter Vegas, recent winner of numerous awards for his Driving Dogs campaign. One photographer called him afterwards.
'Love your work', he said, 'Can I pop in and have a chat or a coffee with you?' Vegas invited him in, together with other creatives, and they talked about the photographer's career and what he wanted to achieve. A few weeks later, after working with me on some planning, he went back to see them, sharing his vision.
'Fantastic!' they said. 'We've got some jobs that would be perfect for you!' They didn't need to see a folio. He communicated with them, shared his vision, and they were on board.
Yesterday I was listening to a radio interview with a successful New Zealand musician who has collaborated with amazing artists from all around the world.
'How did you manage to achieve all those connections?' asked the presenter.
'I followed the best advice I was ever given' he said. 'Put yourself out there, and seek out people who inspire you. Ask them for help, to collaborate, or just to meet with them for a coffee. The worst they can do is say no.'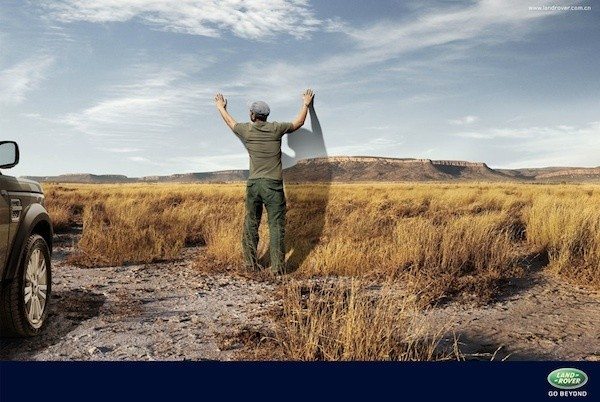 This Bronze Lion winning campaign shot by
Kerry Wilson
was a result of a long working relationship between Kerry and creative Mike Shackle, instigated by a glass of wine and a chat in Singapore years earlier.