This article was written by Patrick Mitchell, co-founder of The Solo Project, where it was published in 2015.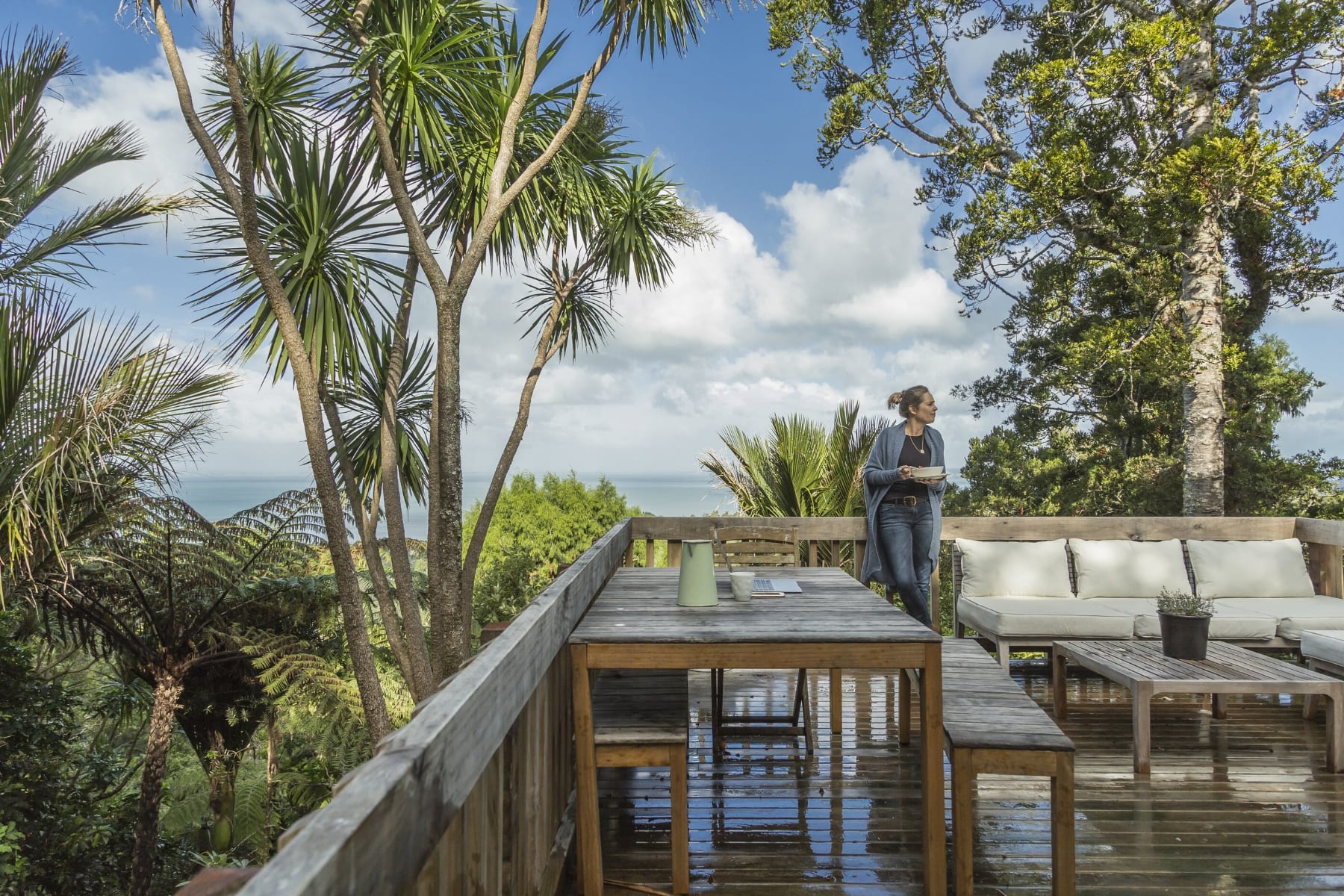 Force enjoys breakfast overlooking Manukau Harbor in Auckland, New Zealand. (Photograph by Goode Williams)
Name: Christina Force
Age: 49
Location: Titirangi, Auckland, New Zealand
Occupation:  Photo consultant, public speaker
Education:  High school and diploma in graphic design in the UK
•  •  •  •  •
What did you want to be when you grew up?
I loved traveling and spoke a few languages, so I thought that being a flight attendant would be cool—until I flew and my ears hurt! Then I thought something to do with art would be good. By the age of 16 I had decided I wanted to be an art director in the best ad agency in the world, and live in London, W1. (And by 19 I had more-or-less achieved this.)
Is there a history of soloing in your family?
My parents had regular jobs, but my dad was a compulsive nomad who had a strong sense of adventure and exploration. He would whisk us off on vacations every summer with only a rough idea of where we were going, and very little in the way of advance reservations. While I was always a keen accomplice, my mum and brother would've been happy to stay home and avoid eating foreign cuisine and sleeping in potentially lumpy beds in tiny European rooms.
About 13 years ago my coach and mentor at the time, David Martin, sent me an excerpt from the book Soloing: Realizing Your Life's Ambition by Harriet Rubin. I promptly forwarded it to my husband, who was growing tired of the politics and stress of life in his ad agency. Within a week he had resigned to go freelance. And ever since then, neither of us have worked for somebody else—other than our own clients.
What was the impetus for launching your solo career?
It's hard to say how it started. I don't think working for myself was a truly conscious decision. All I know is that when I left Saatchi & Saatchi London in the late '80s to travel, I was very clear that I wasn't going to work in an agency again. After running a ski chalet in the Alps, working on a boat in Monaco, and then freelancing in the photography world in Sydney, the idea of being employed by anyone else again seemed unfathomable. Also, I was full of ideas and highly motivated. I've always worked very hard.

"I love building a beautiful portfolio," says Force. "Working with an established photographer who has a huge archive of interesting work, and who's willing to invest the time and money in getting it right, is always a great experience." (Photograph by Christian Mushenko)
What's the path that brought you here?
When my husband and I moved to Auckland I had two young children, but I was keen to get back into the workforce. I decided that I wanted to establish myself as New Zealand's first photographer's agent. I could see a need in the market and it was something I had already had with some success doing when I was in Sydney. The ensuing business, The Collective Force, started out as a solo venture. Within months, however, I had employed a nanny, then a PA (personal assistant), then producers, and within a few years I had 9 staff, offices, and overheads for not one, but two businesses. I had managed to create a job for myself with all the trappings of full-time employment.
Selling those companies five years ago led to my first conscious decision to become a soloist. I was very clear that I did not want to employ staff, or rent a full time office, or invest in any of those trappings which had weighed down so heavily on me previously as an employer and business owner. I was determined to find a way to retain my freedom. I did not want an obligation to staff to prevent me from doing what I felt like doing—like going to the beach for a walk, or working in a café all day.
What keeps you up at night?
I'm kept up at night (in a good way) when I'm in the flow—usually writing and creating content for keynotes and programs, or editing a portfolio. That's when I work into the night, and being at home is good for that, since I can just fall into bed when I'm done. In a bad way, however, I do find the work chatter permeating my dreams, and I'll wake feeling like I've been working all night, and thoroughly exhausted. Things that have to be done, the overwhelming demands of marketing, pulling together free webinars, program planning and prepping, and technology (on which I am completely dependent) that can go wrong all nag at me when I am having a sleepless night.
Where do you see yourself in five years?
I'm in the process of building an online destination so that more photographers can access support from me without my needing to be present all the time. That will free me up to travel more and book more public speaking engagements, as well as to pursue other ventures in the photography world.
Two years ago, I co-launched CA+, Asia's first portfolio review program in Hong Kong. Hopefully soon it will be a solid, respected, and sought-after event occurring in multiple Asian markets. I want it to have a life of its own. And finally, I am working on creating a photo tour exclusively for women, which I am launching with a photographer friend.
When I look at my five-year plan, I have to say I am lucky to have already achieved many of my goals: I live in a beautiful place, I leave Auckland for a warm and sunny destination every winter, I have a reasonable work/life balance, I practice yoga, swim, work in sunny cafés, meet, and get to know, many inspiring and wonderful photographers and creatives, and very importantly, I get to enjoy amazing food. I am always working on a better life balance, but having said that, I actually love what I do, so I can't see myself slowing down too much in the near future.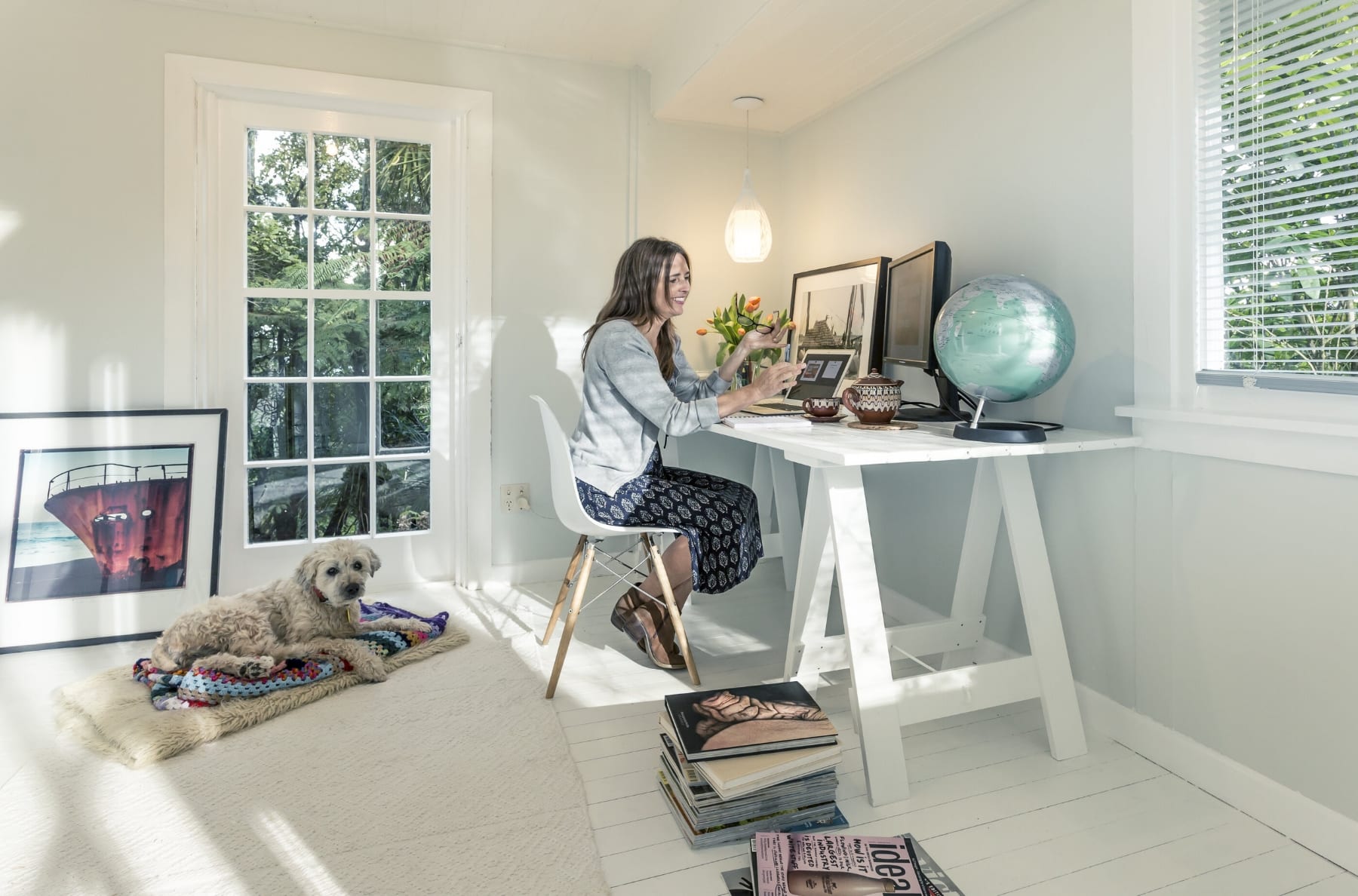 Last year Force launched an online mentoring program to help photographers around the world who were unable to make it to her workshops. (Photograph by Goode Williams)
What advice would you give your 22-year-old self?
Follow your heart and keep doing what you love. The money will follow. If people in your life—professional or personal—use abusive or negative words, you can guarantee 100% it's not about you. They are talking about themselves. Turn anger into empathy by listening and understanding where they're coming from. Not everyone has to like you—and don't waste time trying to please everyone. And the most important person to look after is yourself. If you don't, you won't be able to look after anyone else.
Where do you do your best work?
It's never in one place. I'll start by walking to a sunny café and working on my laptop. The walk helps a lot, and I like the white noise and buzz of a café environment. My favorite café has stools and high tables, so I can stand and work when I need to stretch my legs. If it's nice weather I'll work outside under a sun umbrella overlooking the harbor and listening to the birds. Sometimes, when I don't want to be disturbed, I'll head out to a friend's 'bach' (a New Zealand term for a humble beach house) at Piha on the West Coast to work and have walks along the beach when I need to stretch my legs and do some thinking. Some of my best ideas happen when I'm walking and some of my most focused work happens after a walk.
What's for lunch?
I eat when I'm hungry and often that's between 2 – 3 pm. One of my favorite things about working at home is cooking my lunch. I'll take time out to prepare a meal from scratch—exactly what I want to eat. I love that I have all the tools and ingredients I need at my disposal. Organic veggies are always on the menu, and a favorite is potatoes sautéed with spinach and capers and served with smoked fish and a poached egg—especially if I've had a yoga session. Coconut yogurt and stewed fruit for dessert. Cacao smoothies keep me going. I'm a bit of a health nut.
What do you do on your break time?
I try to go for a walk every day. If I take my old dog it will be a gentle stroll. If I need an energetic walk there are plenty of trails through the bush around the coast and in the rainforest near my house. We live in a pretty beautiful place and even walking to the local shops involves a small trail winding through natural rainforest. My husband is a writer and we'll meet in the kitchen for small breaks, share a cup of tea and chat about what we're up to. Sometimes we'll drive out to a remote beach in the middle of the week and he'll surf whilst I walk and have a swim. I eat lunch out on our deck overlooking the Manukau Harbor, or at a café if I'm working there. Some days, when I need a city fix, I drive into Auckland and work in town for a few hours, or meet with friends and clients—usually also soloists. I am thoroughly spoilt!